MARQUETTE, MICHIGAN
September 7, 2020
Marquette is in the central area of Michigan's Upper Peninsula.  It is on the shore of Lake Superior and has a population of 21,355 which makes it the largest city in the U.P.

It is the county seat of Marquette County and is home to the campus of Northern Michigan University, the largest university in the Upper Peninsula.  
---
HISTORY OF MARQUETTE, MICHIGAN
---
The area along the Lake Superior shore near Marquette was familiar ground to the early French missionaries who navigated along this area in the early 1600s.
The city is actually named for Father Jacques Marquette, a Jesuit missionary, who founded Michigan's first settlement in Sault Ste. Marie and followed that up with founding St. Ignace.
For many years the area was populated by Indians and French trappers. 
Things began to change in 1844 when iron deposits were found west of Marquette near Teal Lake.  The village of Marquette was founded soon after, in 1849.
As the many mines developed in the area, a network of railroads was constructed to Marquette.  Ore docks were built and it was not long before Marquette became one of the major shipping ports on the Great Lakes.
By the early 1900s Marquette also became popular as a summer tourist destination.  Many hotels and resorts were built in the area, and passenger steamships came in from Detroit, Milwaukee, Chicago and other cities around the Great Lakes. 
Business was so good that in the 1930s a civil engineer and county road commissioner named Kenneth Ingalls Sawyer began efforts to build an airport for Marquette.
His efforts paid off and a new airport was built between Marquette and Negaunee in 1937.  The booming economy soon made the airport obsolete and after Sawyer died in 1944, the U.S. Army Air Force took it over and expanded it into what became K.I. Sawyer Air Force Base.
The base expanded greatly during the Cold War and was an important part of the local economy.  The base and the people who lived next to it beacme unofficially the Upper Peninsula's second largest city.
The base officially closed in 1995 and the closure badly impacted the area.  It was estimated that 5,000 people lost their jobs and 14,000 residents were displaced.
Although the glory days of the peak of the iron ore mining industry are in the past, Marquette is still a major shipping port for hematite ores and enriched iron ore pellets from nearby mines and pellet plants.
---
MARQUETTE , MICHIGAN TODAY
---
Marquette still has an industrial presence, but the areas involved have been cleaned up and the city is a nice place to live.
In 2012, CBS MoneyWatch named Marquette among the 10 best places to retire in the U.S.A.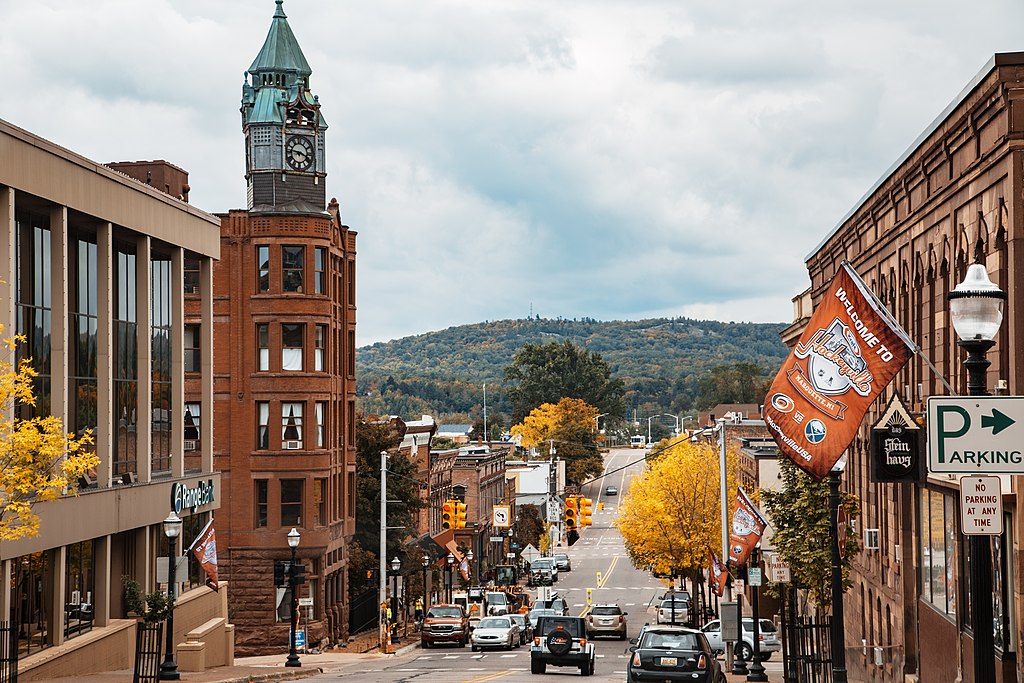 By Tony Webster from Minneapolis, Minnesota, United States - Downtown Marquette, Michigan in Autumn, CC BY 2.0, https://commons.wikimedia.org/w/index.php?curid=72184354
Reminders of Marquette's history can be seen in the large abandoned iron ore loading dock on Lake Superior in the downtown area.
The former industrial properties along the waterfront have been converted into grassy linear parks and walking trails. 
Many new homes have been built in this renovated area.
The waters alongside the old ore dock are now home to a marina.
Sailing and fishing are popular summer sports in Marquette.  Snow Mobile riding and skiing are favorite winter activities. 
Marquette has an industrial history but it is also very much an academic city.
History of Northern Michigan University
Northern State Normal school opened in 1899, and was renamed Northern State Teacher's College in 1927.  Many teachers at elementary and secondary school around the Upper Peninsula got their degrees here.
The name changed again in 1942 to Northern Michigan College of Education.  The next name change came in 1955 to Northern Michigan College.
It finally received it current name change in 1963 when it received university status and became Northern Michigan University. It now has a student body of 7,000 students studying in 170 degree programs.
Superior Dome | World's Largest Wooden Dome
A major attraction on the university campus is the Superior Dome.  It is a domed stadium that was built in 1991 and was billed as the "world's largest wooden dome."
It is 536 feet in diameter and 143 feet high.  It's structural design is that of a geodesic dome with 781 Douglas fir beams and 108.5 miles of fir decking.  It has been designed to withstand 80 mph winds and snow loads up to 60 pounds per square foot.
The structure hosts many events including most of the university's athletic programs including football and basketball.  The stadium seats 8,000 people.
---
FOOD, LODGING, AND THINGS TO DO
---
---
---
INTERACTIVE GOOGLE MAP  MARQUETTE, MICHIGAN
---
---
---
Do You Know Something About The Upper Peninsula?
Do you have a great story about any place, town, or person relevant to Michigan's Upper Peninsula? Share it with us. We'd love to share your memories and pass them on to our other website visitors.
By Mike Miller, Copyright 2020-2023 YooperSecrets.com